24 Hours in New York City + Insta Story Round-Up
This post may contain some affiliate links. Thank you for your support!
Another week has come and gone and February is closing soon. Is anyone else just standing here looking at the calendar and thinking, "What?" because seriously, WHAT. Times like these make you realize how much you need to cherish every moment of your life because one day you'll be looking back on it and wishing you had focused more on creating memories. That was basically what I had in mind when I decided to write this post. If you didn't catch Monday's post or follow my Instagram then you may not know that we celebrated a huge milestone last weekend: 100 days until Justin's graduation from West Point and 100 Days until our wedding. We usually take class weekends as a chance to relax and spend quality time together (Fun Fact: quality time is my love language) but this year we decided to do something a little different and actually spend a day in New York City.
Now, I've been to New York City a dozen times and every time is a different experience. Whether it's to attend HerConference last summer or brunch in the spring or a concert in my college days, New York City is one of those places that always makes me feel truly alive. Growing up, I had even dreamed of living in New York City and being a writer for a magazine (because what girl doesn't have this dream at some point in her life?). While I've come to realize that living in the city just simply isn't for me, I love that you can spend 24 hours in New York City and have an amazing trip.
I like taking New York City day trips because it allows you to have all the fun of the city without actually spending a fortune or without running out of energy. So I figured I would recap our 24 Hours in New York City, give you a little idea of how to spend a day in New York City, and do a little Insta Story Round-Up from our trip!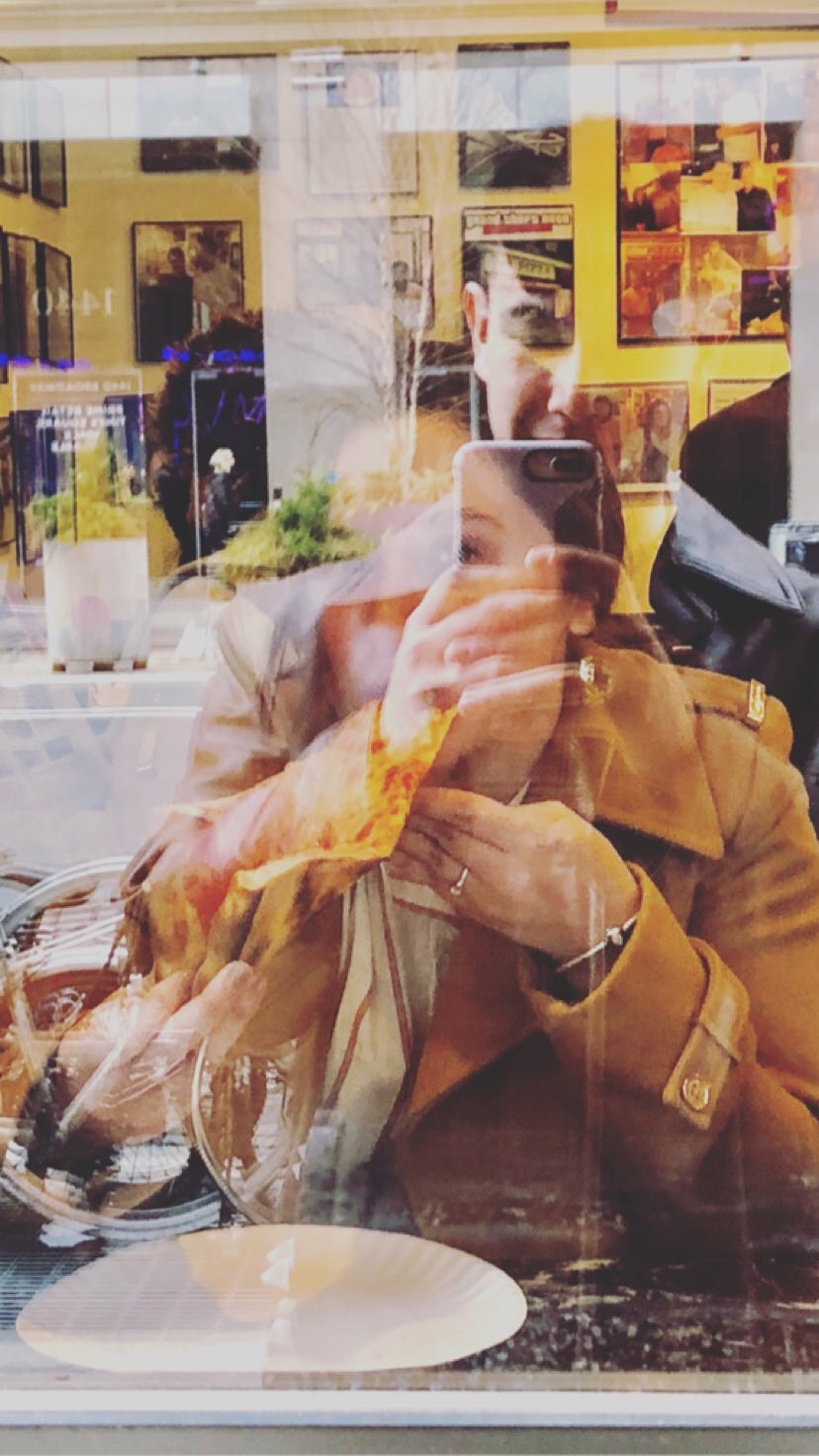 What to Wear
For some reason, I completely failed to get a shot of my OOTD for Monday... probably because of the nice hangover I was nursing. But the outfit to end all outfits was worn on Sunday. Like, y'all, I don't know if I will ever be able to honestly top this outfit combination. I wore a vintage Tina Turner sweatshirt (similar style here) that my mom and her twin sister spend $50 on in the 80s at a concert. I grabbed this from my dad's house a while back and have just been hanging onto it for no apparent reason until now. I paired it with some boyfriend jeans from J. Crew Factory, and my Adidas tennis shoes because I knew we would be doing A LOT of walking. Top New York City Tips: Wear comfy shoes.
Where to Stay
In my experience, hotels in New York City are really hit or miss. We actually used Hotel Tonight to snag a great deal in advanced on our hotel, Shelburne NYC, and we ended up really loving because they were extremely accommodating, the room was nice and comfy, and they had a rooftop with views of the Empire State Building (but I don't recommend going to the roof after drinking a lot...). The hotel was clean and comfortable, as I mentioned, which is always a plus and the location was close enough to subway stations that we didn't have to worry too much about getting around the city.
Where to Eat and Drink
Now if you're like me then you scrolled right to this part of the post. I'm all about the food when I visit any type of city or touristy place. If we're somewhere like New York City and you suggest a chain restaurant or fast food joint (with the exception of Chick-fil-A) I'm probably going to assume you're crazy. That being said, we did eat at a few places that were hits and misses. RARE Bar and Grill was attached to our hotel and while the coffee and fresh squeezed orange juice were delicious, I wasn't that impressed with my breakfast. I think that was just a taste thing rather than a quality deal but I would honestly go there again just for the orange juice... it was that good. Route 66 Smokehouse is where we spent A LOT of time and while I had issues with my food order everyone else seemed to really enjoy their meals and the brunch price was great! The brunch menu was limited but bottomless mimosas and beer made up for it. We actually ended up going back there later that night for drinks because everything was closing since it was a Sunday. The frozen little number you see in the Insta Story Round-Up is from them and it was honestly delicious, along with the mac and cheese. The final place we ate during our 24 Hour Trip to NYC was at Joe's Pizza which is my favorite pizza place literally ever. You may recognize it if you're a movie buff but honestly just go for the pizza. You can also eye all of the pictures of celebrities who have stopped by over the years.
What to Do
Since I love spending money on food and drinks, we tend to not spend money on actually doing THINGS, especially when we're in the city. You can have so much fun just walking around and enjoying New York City that you really don't need to do anything. We walked around all day on Monday just enjoying each other's company and a coffee or snack here and there. Justin did take me to Pandora for my Valentine's Day gift which I thought was a super special treat. A tradition I started back in the day with one of my oldest and dearest friends was to pick up dessert from Magnolia Bakery and eat it on the steps in Times Square. Justin had never had their famous Banana Pudding, which is my favorite ever, so I knew we had to do this. He got the chocolate raspberry which was good, but can't be the original.
What's your favorite thing to do in New York City?